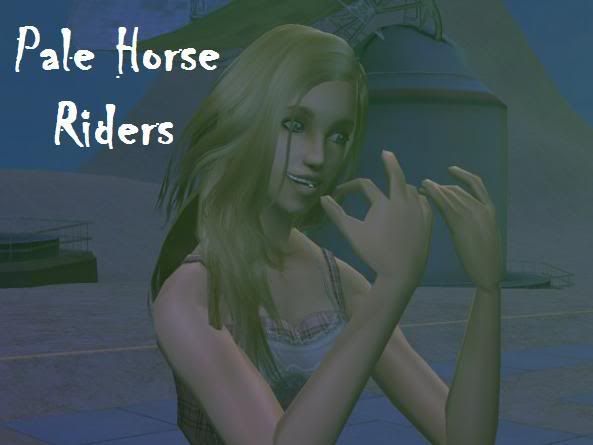 Pale Horse Riders: Chapter 10

Warnings: partial nudity, implied sex

Once the joy of their reunion settled, Lazlo and his brothers brought Gabrielle and the odd-looking telephone back to their house. Lazlo explained to Vidcund that the Grim Reaper had promised him a "direct line," and it appeared he had taken that in the literal sense.


"So we...we just call him?" Vidcund asked unbelievingly, staring at the phone.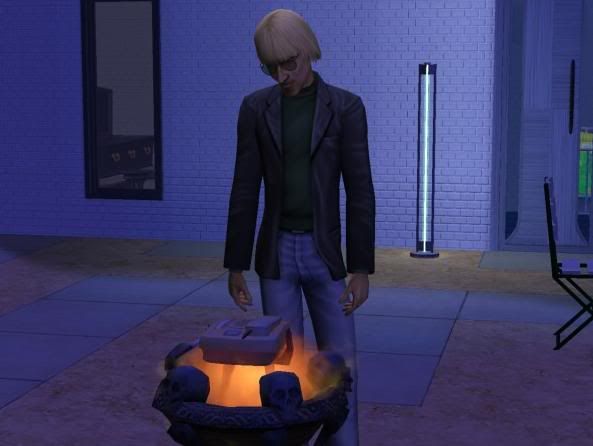 "It looks that way," Lazlo said, holding Gabrielle close. "Go ahead, Vid. Give it a try."


Vidcund picked up the handset and immediately heard ringing. It was a different sound of ringing than what he was used to, but the phone was obviously calling someone. After four rings, the other end was answered by the same grating, deep voice Vidcund remembered from when Charity had died, and also from the Underworld, when the Reaper had released Gabrielle.


"You must be the brother of Lazlo Curious," Death remarked, without preamble.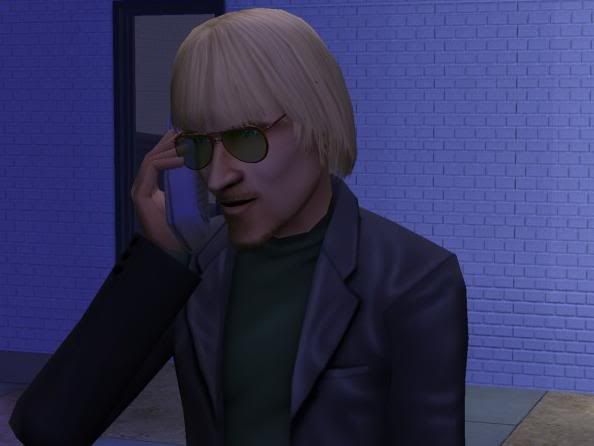 "Yes. Yes I am, and I want to..."


"I already know what soul you wish to resurrect," the Reaper said dismissively. "How much are you willing to pay?"


Vidcund realized he did not know. "How much?" he whispered urgently to Lazlo, covering the mouthpiece of the phone with his hand.


Lazlo broke away from the kiss he had been sharing with Gabrielle and smiled apologetically. "Oh, sorry, Vid. I forgot to tell you. Ten thousand simoleons."


"Ten thousand?" Pascal gasped in shock, but Vidcund was unperturbed. "Right," he said, turning back to his conversation with the Reaper. "Ten thousand simoleons," he said firmly, and he listened to the Reaper tell him how generous he was.


Generous? Vidcund thought. I'm not doing this out of generosity... But before he had much time to contemplate that fact, a cloud of green smoke erupted right beside him. He jumped back involuntarily, as did Pascal, who was standing nearby. Lazlo and Gabrielle, who had both seen far more disturbing things, were too involved in each other to take much notice of the green cloud, but even they spun around at the sound of Charity's voice.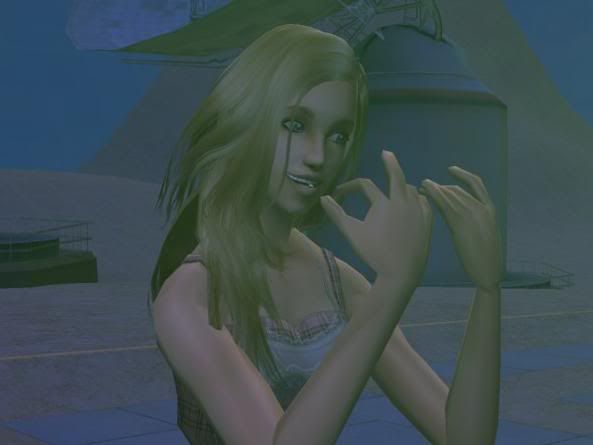 Charity looked at her hands, felt her chest for her heartbeat, and gasped with delighted surprise. "What...?" she faltered, squinting through the misty green smoke, and Vidcund had a sudden memory of a vampiric Charity appearing to him through a similar cloud of purple vapor that night... so long ago... at the residence of the Grand Vampire.


However, she was no vampire this night; or anything else unnatural. She was restored fully to complete health and life, and as soon as she saw her husband, she rushed into his arms as though trying to meld herself into his flesh. "Am I really back, Vidcund?" she whispered unbelievingly. "Am I really with you? Oh Vidcund! I was so afraid, and so cold, and I missed you so much! But how did I… I mean, you… I don't understand! How did you do it?"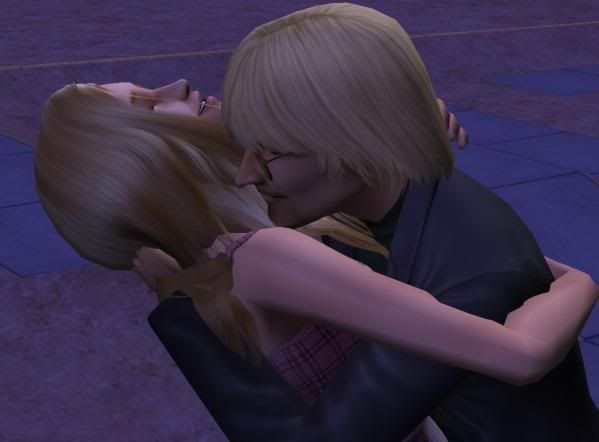 "Ask Lazlo sometime," Vidcund smiled, pushing his wife's hair back from her face and looking into her silver eyes. "I'm rather interested in hearing the whole story myself, but not now. Definitely not now!" He pulled Charity close. "Before any of us says anything, and especially before anyone goes to bring the children home from Jenny's, I'm having you all to myself for a few hours, at least!" Laughing with delighted relief, he scooped her up and carried her off to one of the bedrooms, his intent obvious.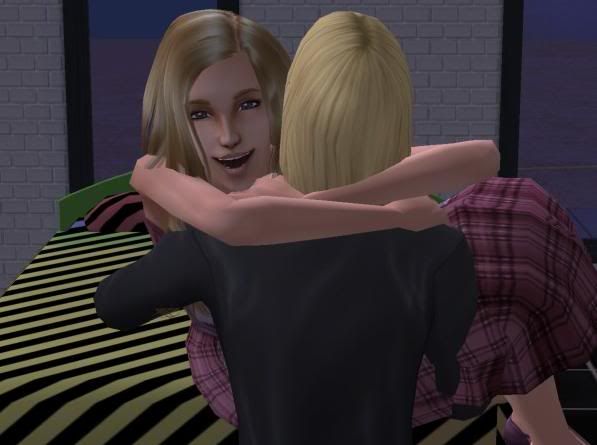 "Wow," Lazlo grinned, winking at Pascal. "Vidcund's usually never that blatant..."


"Can you blame him, though?" Gabrielle said, smiling and linking her hand with Lazlo's. "I've only just met your family, but I can tell Vidcund and Charity are deeply in love. They deserve this time together."


"Yeah, speaking of which," Lazlo said lustily, turning toward the Lady and embracing her. "I think we're pretty deserving of that ourselves, don't you?" Not waiting for a reply, he bent her over backwards in his arms, and she laughed with delight as he kissed her.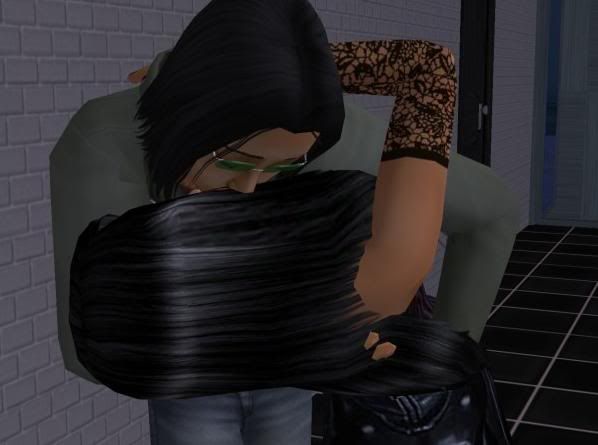 "I'll go get the children," Pascal said, sighing and turning toward the door. "Don't worry, I'll stay at Jenny's for a while before I bring them home."


"Good man," Lazlo said over his shoulder as he held Gabrielle close to his body and backed her up toward the door of his bedroom, kissing her the entire way. "I intend on making this take quite a while."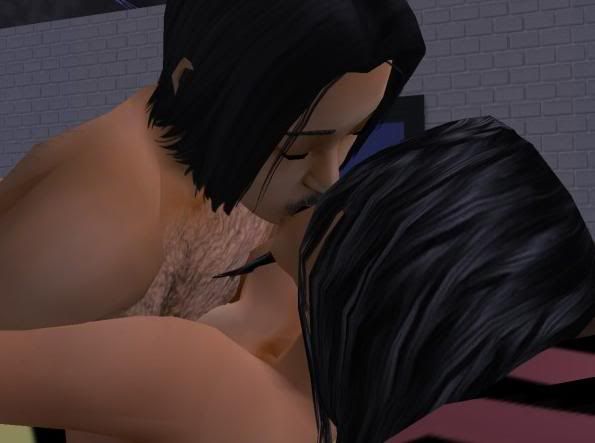 ********

Lazlo and Gabrielle were married on a sunny, clear day a few months later.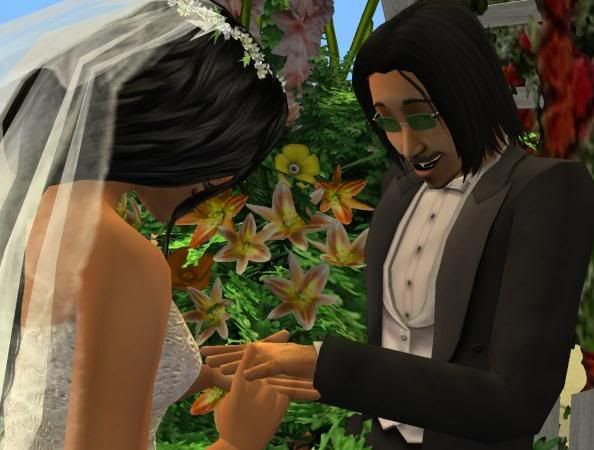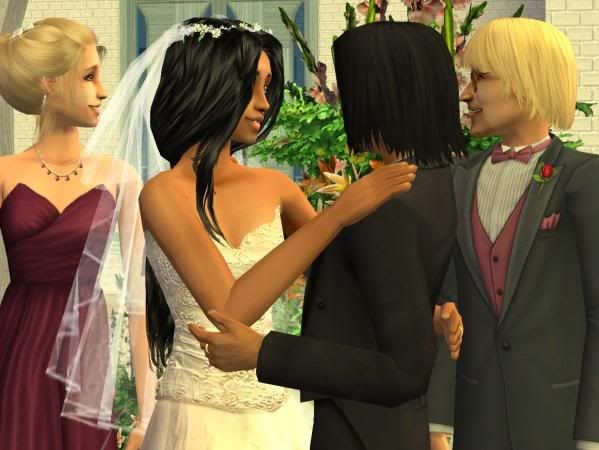 Vidcund stood up as best man, and Gabrielle asked Charity to be her matron of honor. The two women, so different in experience, yet whose lives were so amazingly similar, had become very close friends in just the short time they'd known each other, and already, they felt like sisters. Finally, Gabrielle knew what joy a sister could be.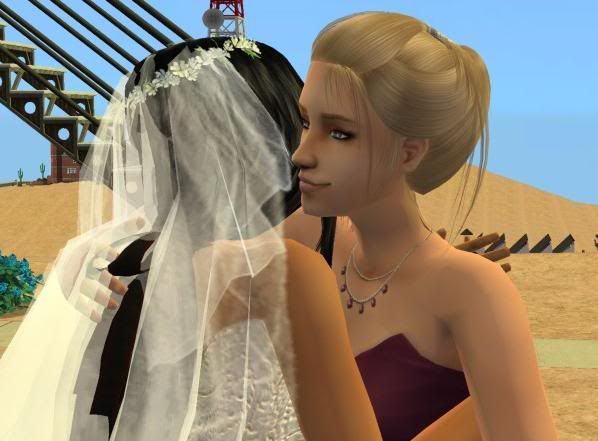 "I'm so thrilled that Lazlo has found someone at last," Charity whispered to the bride after the wedding. "Truly, Gabrielle, I've never seen him so happy." She hugged her new sister-in-law, tears streaming from her eyes, then she turned to Lazlo and couldn't help laughing at the rakish gleam in his eyes. "And no, I don't want to know!" she said, and the entire wedding party dissolved into laughter.


"Hey, by the way, Pascal," Lazlo said to his brother after the ruckus had died down. "What did the University have to say about our little... donation?"


"Oh, they loved it," Pascal grinned. "They're going to use it in their Paranormal Studies class. I wished them luck at it."


Lazlo and Vidcund laughed. Of course the original telephone to the Grim Reaper would remain forever with the Curious brothers, but since the Reaper had told Lazlo that the option to resurrect souls needed to be available to all humankind, the brothers had decided to construct a second device at the lab.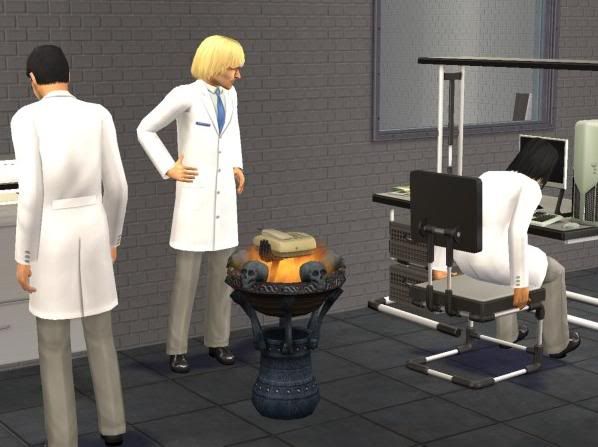 Lazlo affectionately dubbed it "The Resurrect-O-Nomitron," and the brothers donated it to the University for study. They hoped that eventually, once the scientists at the college discovered the device's use and how to build it themselves, scholars who immersed themselves in the Paranormal as a career would be able to build one of their own.


In this way, the ability to resurrect the dead would be available to more people in the world, but not so many that none would ever die. It seemed to satisfy the parameters the Reaper had set forth, and all were pleased with the arrangements; except for the baffled professors at the college, of course.

"Well, I'm sure those eggheads at the University will figure it out eventually," Lazlo said to Pascal, smiling, then he loosened his tie and jacket and took off after his nephew Gavin, joining the children in a wild game of tag.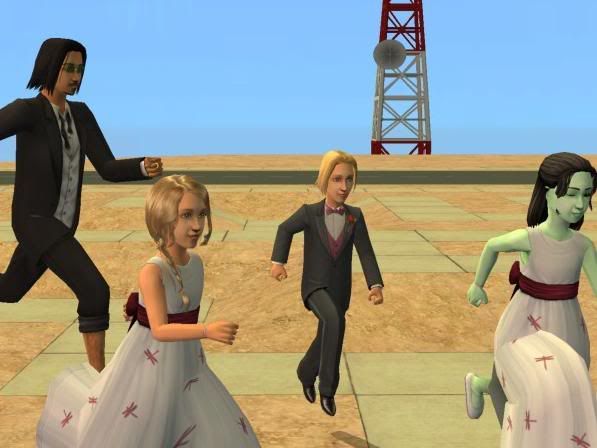 Gabrielle sat down at the small outdoor table with Charity and watched her new husband, fanning herself with her hand. She still wasn't quite acclimated to the warmth and sunlight, but she wouldn't trade them for anything. She smiled at Charity, and, sighing, looked around her at her new family, thinking she might simply overflow with happiness. Her life had truly been given back to her, more complete and better than it ever had been before, and she was so grateful. Words could not begin to describe the thankfulness she felt.


"He seems like such a big kid himself, doesn't he?" Gabrielle murmured to Charity, indicating Lazlo, who was immersed in playing rough-and-tumble games with the children. "But you know, he's not. Not at all..."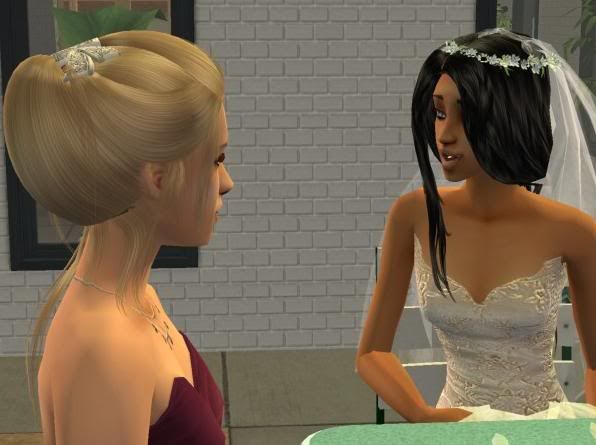 "Not when it counts," Charity agreed, and squeezed Gabrielle's hand as she stood up to go dance with Vidcund, who had crept up behind his wife and was massaging her shoulders. The two of them were even more inseparable than they had been before, if that could be imagined, and Gabrielle could tell why Vidcund had been so desperate as to follow his wife to the Underworld.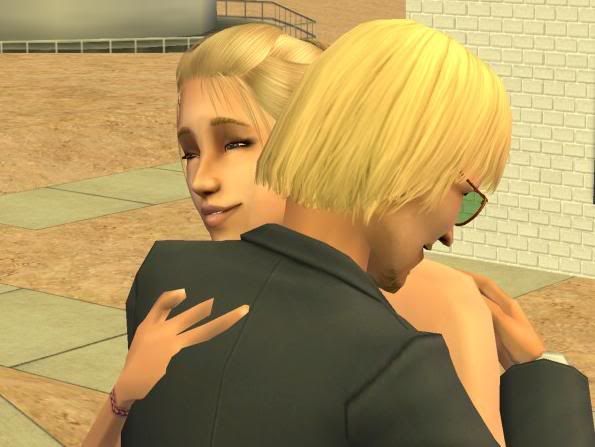 Gabrielle was grateful for that as well; for it was the reason she was here among them. She'd have to be sure and thank them sometime.


Lazlo walked over to Gabrielle, sweating and out of breath, his tie loosened and hanging around his neck, and his shirt collar unbuttoned. "Those kids are wearing me out," he panted, grinning. He took a huge gulp of beer, and sighed happily. "I dug out the old sprinkler for them to play in, and that should keep them busy for awhile and give me a chance to rest!"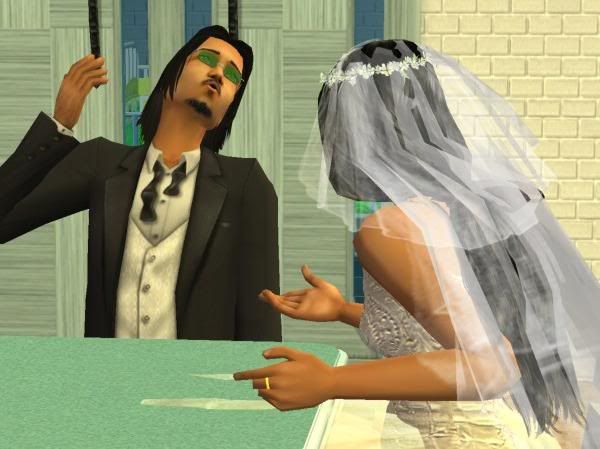 Gabrielle found herself itching to tangle her fingers in the mat of rough curls that she knew covered his chest, and could just barely see above the open collar of his shirt. Her body flushed with tingling anticipation, and she cleared her throat. "Um... I think if you're that worn out, you should go lie down," she murmured, "and I'm going to come along just to make sure you do."


Lazlo's voice became decidedly seductive. "Hmm, yes, I think you should," he said, taking Gabrielle's hand and leading her to their bedroom. "Besides, I want to get started on making some rug rats of our own, as soon as possible." Once inside the relative privacy of their bedroom, Lazlo turned his wife around and unzipped the long zipper of her wedding dress.


"Oh, wait. Didn't I tell you?" Gabrielle asked casually, letting her dress fall to the floor and turning to face her husband. Her hand moved gently over the softly rounded surface of her abdomen, and she smiled indulgently, her mist-colored eyes full of secrets. However, these were not secrets of pain and death, but of life and joy.

Lazlo froze and stared at her, in the middle of removing his shirt. "Are you saying that you're...?"


Gabrielle gave him an almost imperceptible nod, and a blazing smile broke across Lazlo's face. Whooping with joy, he jumped over the bed and pulled his wife into his arms, his shirt now completely unbuttoned and hanging off his body carelessly. "Hot damn!" he cheered. "I'm going to be a daddy!"


Joyfully, he pulled Gabrielle down underneath him on the bed and tore off the rest of his clothes… knowing he needed to be gentle, but wanting to be as close as possible to his wife in this moment of happiness. Gabrielle received him joyfully, and as her husband held her and loved her, an ecstatic sense of completion washed over them both.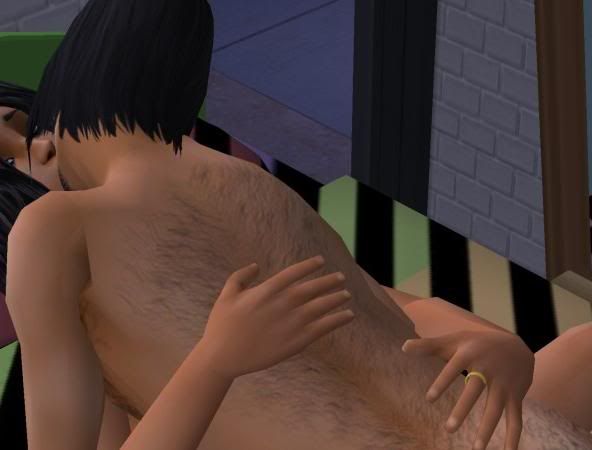 Finally, exhausted by his ardor, Lazlo fell fast asleep, but Gabrielle lay awake for some time, curled in his arms, his warm hand over her abdomen where their child was growing, just savoring the peace she felt.


Peace such as she had never before known.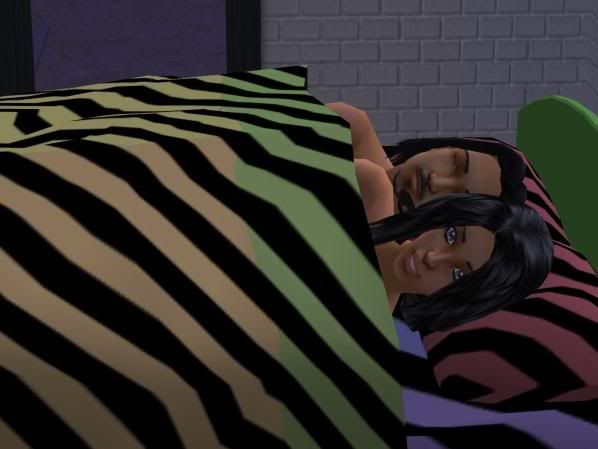 Fate certainly has a way of knowing what is best for us, she thought to herself cryptically, even when we do not know it ourselves. When my soul was damaged and I was indentured to the Underworld, I thought there could be nothing more for me.


Yet had I known what was ultimately in store... that I would eventually become Mrs. Lazlo Curious and the mother to this child, I would have taken the servitude to Death again and again. A hundred thousand times over...


She snuggled even closer to her husband, who murmured in his sleep and rested his head just behind hers on the pillow. She felt Lazlo's warm breath on her neck, the strong, steady beat of his heart against her back, and a tiny stirring of life from within her womb directly beneath his hand.



She closed her eyes in bliss.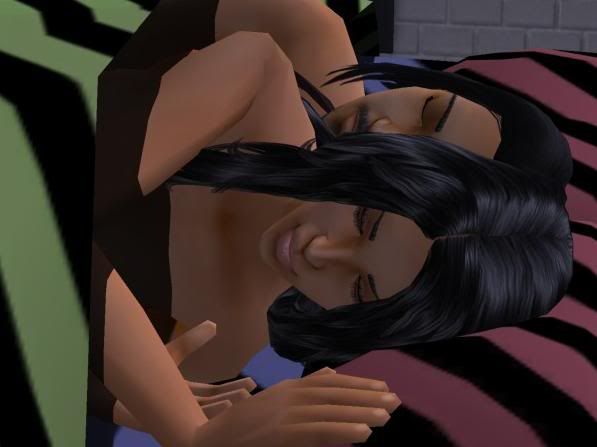 .

It was so very worth it in the end.




~~Fin~~