Warning: Lots of non-story related pregnant sim spam


We all know about Squinge's pregnant sims wear anything hack, but I was always a bit disappointed because a lot of the Maxis-made clothing would make SUCH good maternity clothes but even with Squinge's hack they didn't support the pregnant morph.
This wonderful wonderful hack
from the mystical one at MTS2 changes that!
It provides pregnant meshes for tons upon tons of Maxis base game, EP, and SP outfits. I totally love it! Yes, it's a lot of files, depending on what EP and SP clothing you want pregnant meshes for, but to me it's totally worth it. I love my pregnant simmies, lol!
Here are a few screen shots of some of the outfits. This is by no means all of them though!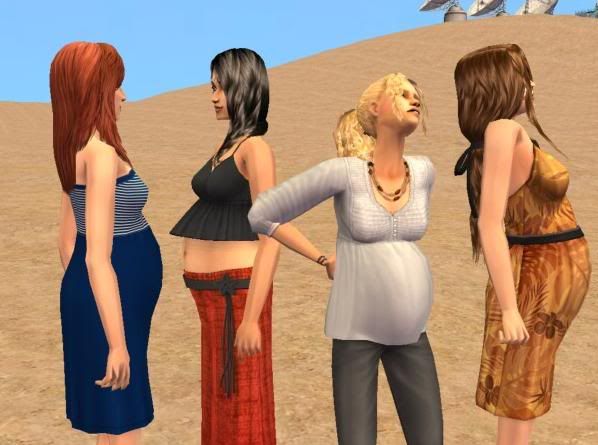 Strange-tomato... if you read this, check out your "Ophelia" outfit there! Doesn't it make the BEST maternity outfit???? **Squee**
Uh-oh... pregnant Uni cheerleader!! And I LURVE the FFS dress... check out how those pleats hang! Perfect! Oh... isn't that pink dress with the bow just so sweet looking? And don't get me started on the suit... I wore my clothes like this when I was pregnant and still working... just unbutton the bottom three or four buttons of that suit and let that belly pop! Oh yeah!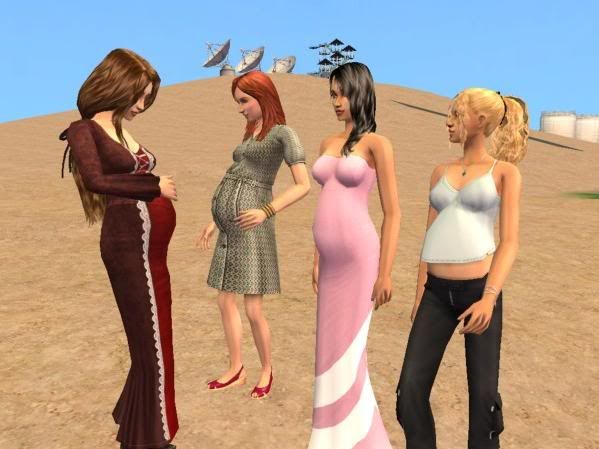 I really like the two H&M outfits in this. It's funny because I really don't like that dress normally. The other H&M outfit's pants SO look like the trendy new style "below the belly" maternity pants.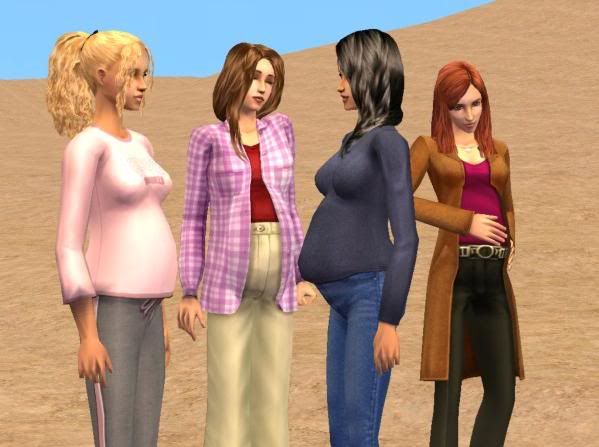 I love those Uni PJ's. I think I spent about half of my last pregnancy wearing clothes that looked just like that.
Anyway, these are just a few of the examples. Practically every outfit gets a pregnant morph with this d/l. Not all of them... but certainly a lot.
Hmmm... I think I can find a few more... Yep!
Here's a picture of a sim I had saved on Photobucket from a post over at TSR... playing the violin! She's very proud of that belly!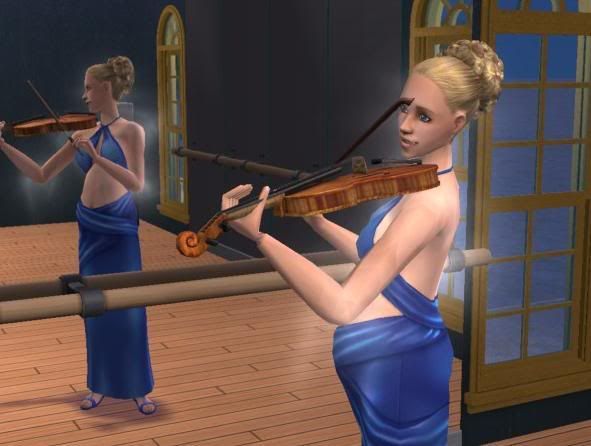 And speaking of Ophelia (I mentioned her in the first pic's caption.) Here she is at a luau, dancing the hula with her very pregnant belly. She has Johnny's twins in there!